The FASTEX Filling and weighing systems are an integral part of packaging machinery.FASTEX offers product specific filling systems with corresponding volume and performance ranges.
Auger type doser, Cup doser, and Linear weighers give optimum dosing and weighing options for packaging processes. With an integrated microprocessor technology and precise mechanics these systems deliver high filling precision. They are reliable, easy to operate, and offer an efficient and trouble free life through a combination of modern controls and monitoring systems.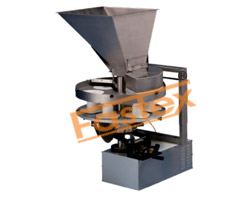 Cup Doser can be effectively used for volumetric filling of free flowing Products. Excellent for Products like salt, detergents, sugar etc.
Features
Precision machined cup assembly
Optional: Motorised volumetric cup adjustment vibrator for product
de-compacting
Easy cup change
High speed
Can be interfaced to check weigher
Special execution for non-free flowing Products
Technical Specifications
Fill volume 1gms. to 1 Kg
Out Put (max.): 250 fills / min.
Precise and accurate dosing, and reliable product flow makes this a proven filling system. Product protection system like "neutrafill" can be synchronized with the Auger doser to achieve less than 1% residual oxygen levels. Excellent for Products like flour, spice, coffee powder etc.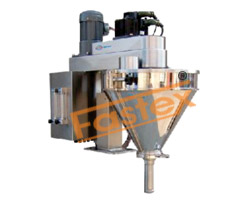 Features
Servo drive for high efficiency and accuracy
Proven in food and chemical industries
For powdery Products such as wheat flour (Atta) coffee, milk powder, instant mixes, spices, chemicals, pesticides and insecticide powders
Gentle product handling to suit Products to be filled
Product flow through cross feed auger, vertical drop channel to the agitator hopper and dosing tube
All product contact parts made of stainless steel, acrylic and hard anodised aluminum
Rigid construction ensuring consistent, high dosing accuracyFast & easy
Cleaning due to split agitator hopper design
Cross feed auger (optional)
Technical Specifications
Dosing range (min. - max.): 3 Gms. to 5 Kg.*
Out Put (max.): 150 fills / min.*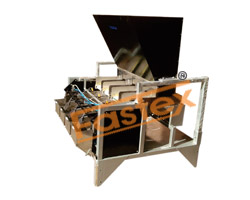 The system enables gentle and accurate dosing of food Products. Available in 1 to 6 track. The linear weigher can be attached to the packaging machines. Perfect for Products like tea, cereals, coffee beans, sesame, capsules, seeds, granulated sugar, salt, nuts, pet food, pesticide, fertilizer, feed, food additives,fertilizer granules, pasta etc.
Fast, precise and maximum weight accuracy is achieved by this system. Multihead weighers can be attached to the packaging machines to achieve the perfect package weight. Best for Products like snack foods, dry fruits, Poteto Chips, candies,fertilizer, feed, food additives,fertilizer granules, pasta etc.